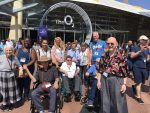 Hillsong Europe Conference 2019
6 of our members attended the Hillsong Europe Conference at the 02 arena from 24 – 26 July which was an experience for them never to be forgotten.    The conference, organised by Hillsong had 10,000 people attending from 70 different countries and during that time people attending sponsored just under 700 Compassion children which enable children from poor families to receive education in third world countries.  On two occasions we visited Livability who are based near the 02 and shared a sandwich lunch and were introduced to new members of staff.  The days began at 9 am and finished at midnight by the time we had driven home and although we had some very tired clients and staff – we all thoroughly enjoyed our time together.  We are very grateful to Hillsong for providing tickets for us as well as our own suite within the 02.  It was a challenge going through the security having three members with pacemakers, coping with the very hot weather outside the 02 but enjoying the air conditioning inside.  The music was loud (but there were headphones!) the artistic arrangements were brilliant, the speakers were excellent and being together for three days was a great experience.  They are looking forward to next year!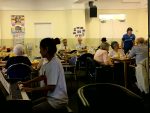 Work Experience Students
It has been really nice to have two work experience students from the Ursuline School and last week the members were able to enjoy the student's piano playing which was a real bonus.