We are looking for new volunteers for our Adopt a Granny scheme and if you are interested please do email us – our address is on the Contact Page.  It does require the volunteers to keep in touch with us regularly as to when they are visiting and give a brief report after they have visited.  The scheme does help people not to feel so isolated and can include taking the client out for coffee or spending time in their home – at a time convenient to them.  It is great to see the  new friendships developing and know that even at the weekends, people are not on their own.  If you would like to join our scheme please do email us.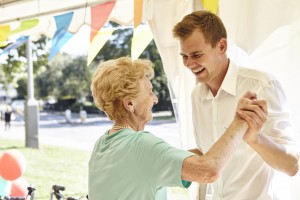 Dream Wall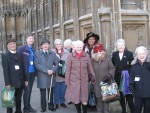 We are also keen to help fulfil older peoples' dreams and are looking for volunteers to help us with this.  This photograph shows the fulfilment of one person's dream to visit the Houses of Parliament. 
The dreams include:
Horseriding
Shopping trip to Asda
Trip to the coast
Visit the National Theatre
Go to the Chelsea Flower Show
To go to the cinema
Go to patchwork classes
Group trip to the Theatre
It is so good to give our members something to look forward to and something to look back on.