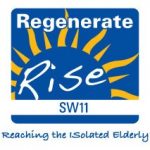 RISE SW11 at St Michael's Day Centre is closing for refurbishment from 25 June for 10 weeks.  We will be continuing the service from RISE SW15 at the Platt Christian Centre in Putney.  Transport will be provided to enable everyone to get there.
Our phone number at Battersea will be redirected to the Platt Centre – 020 8780 9330 and our activities will continue as normal.  We will be open on Monday, Wednesday, Thursday and Friday every week  – if you want to call in and see us, please do.
We are really looking forward to having a newly refurbished Centre  for all our Battersea clients and hope to be back in September.