Recent outings
We regularly update this page with details of recent outings that we have made from Regenerate Rise.
A recent dream come true for Michael was going horse-riding, with thanks to his sponsors Cosyfeet as well as individuals – it will be the start of a series of lessons.  Trips to the Cinema and shopping centres have also been undertaken as special wishes of our clients.  We are looking forward to developing our "Dream Wall" in the near future.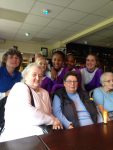 11 of our clients attended the Sponsored Walk Fun Day organised by one of our member's family.  It was held at Putney Bowls Club and included a BBQ, face-painting (for children!), a raffle and auction as well as 25 people doing the sponsored walk.   Local Majorettes did a great display on the Green.   It was a great event and a great outing and Regenerate-RISE is very grateful to all those from Hilda's family who made the day a great success.