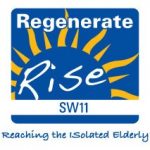 On Monday 5 March we are launching RISE in Battersea and will be holding an Open House from 1.30 – 3 pm.  If you would like to see more of what we do at St Michael's Day Centre, please do visit us.  Robbie will be entertaining our clients with his great music and dancing will definitely be on the Agenda.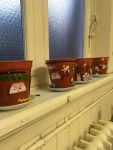 One of the new activities has been painting plant pots and planting bulbs and they are growing well on the window sills.  We have had exercise classes, art workshops, pancake parties, Blind Date and many other fun things and of course we still play Bingo once a week.
The staff team consist of a Centre Manager, Assistant Manager, Driver and Pastoral Care Co-ordinator and three Support Workers, two who concentrate on activities and one on pastoral care.  We are currently waiting to appoint a Cook and when the applicant is in place, we will start our visiting programme.
Mo Smith, Chair of Trustees of Regenerate-RISE said "We are very glad to be able to continue to provide a service to older people across Wandsworth and we are grateful to all those who have worked hard to ensure that our clients get the best possible service".