Kings and Queens 2018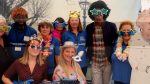 Staff, Trustees and volunteers took part in the photo booth which had a background of London and free photos in frames were sent to all those who had their photograph taken.  The event was attended by 220 pensioners from the locality and was held in the presence of the Deputy Mayor, Councillor Jane Cooper.  The lunch was enjoyed by all and included cold beef and hot new potatoes with salad followed by home-made chocolate brownies (thank you Debbie Thwaites).  Entertainment was by Robbie and Grandpa's Spells and the guests enjoyed a game of Bingo to raise funds for the new Reablement Centre.
On the Friday, we had a Fish and Chip lunch followed by chair-based dance exercises and Bluebird Care provided stalls with tombola, cakes and other items.