RISE and the future of Platt Centre
The Platt Centre and the Platt Mission prior to the new building has been providing support to local people since 1807 and currently we do not know what the future holds for the Platt Centre due to the fact that the landlord, Livability have decided to sell the building.  During the Covid-19 crisis we have provided a service across the borough and this photo is of the tree outside the Platt Centre with photos of  volunteers and key workers who have dedicated their time and emotions to serving people with Covid-19 or who are at risk of Covid-19.   It is our way of saying "Thank You" to all those who have helped us throughout the last 6 months as well as to others who have supported in the community.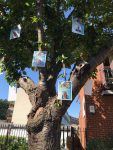 Back in the late 1800s, the Platt Mission was a thriving Church with the largest Sunday School in the borough and in the early 1900s they began a Band of Hope, provided food for the poor and generally served in a variety of ways.  In this current year, Regenerate-RISE has continued along the same lines but focusing on the vulnerable elderly – still provides food to those who cannot go out and supplies to those affected by the pandemic.  We provide emotional and psychological support to the lonely and those who are afraid of the future and we hope that, if we are not able to continue at the Platt, that Regenerate-RISE will find a suitable premises to continue our work from.